Course support with Enlight Ed
Enlight Ed's no-code platform allows you to build a virtual assistant that turns exercises into interactive conversations, guiding students, offering adaptive hints, providing immediate feedback, and enabling real-time progress monitoring and actionable formative assessment data.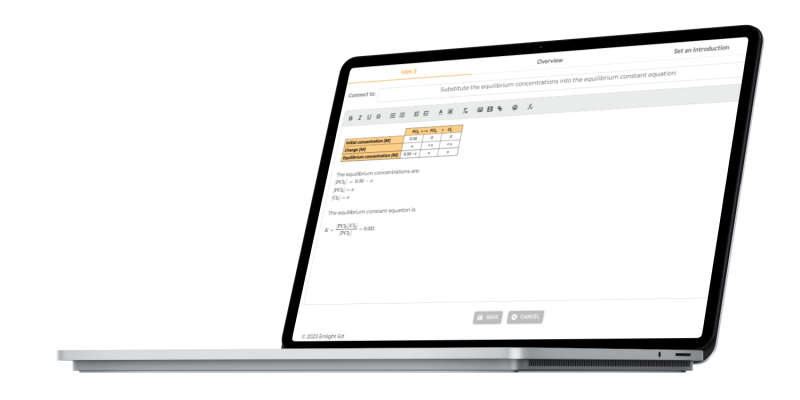 Scaffolding Approach
Mirroring the one-on-one support students often need, helping them tackle complex tasks effectively.
Personalized Learning
 Adapts to individual needs, delivering tailored hints, instructions, and feedback.
Immediate Feedback
 Prevents misconceptions and boosts confidence in making correct decisions.
Familiar Communication
 Engaging, chat-like interface that enhances the learning experience.
Scalable Support
Serves as a scalable solution, simulating one-on-one interactions with students.
Enhanced Engagement
 The platform's interactive and adaptive nature enhances student engagement.
Student Struggles Identified
 Assists educators in pinpointing the areas where students face difficulties in problem-solving.
Efficient Feedback Loop
 Educators can analyze student progress, enabling them to provide targeted support.
Try one of our engaging, freely accessible sample exercises – no account required. Experience personalized learning and immediate feedback.
Discover Enlight Ed for your course!
Reach out to us for a free pilot to bring Enlight Ed into your classroom.